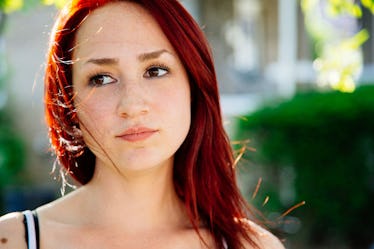 The Healthiest Ways To Express Your Anger In A Moment Of Rage, According To Experts
Do you ever feel like your brain has reached its metaphorical boiling point and is about to bubble over in rage? Same, friend. All the time. And the fact of the matter is, I'm willing to bet your anger, regardless of what sparked the emotion, is totally and 100 percent justified. But it's easy to forget that anger can actually be a really valuable feeling, one that can teach you a lot about yourself and how to handle difficult situations. As long as you have healthy ways to express your anger, rather than suppress it, these difficult emotions really can serve a higher, more meaningful purpose.
The thing is, suppressing angry emotions doesn't just feel terrible; it's been scientifically shown that doing so is downright bad for your wellbeing. For example, a study published in The Journal of Psychosomatic Research, the official medical journal of the European Association of Psychosomatic Medicine, followed over 700 people between 1996 and 2008, and found that, on the whole, bottling up certain emotions, including anger, may be associated with an increased "risk for earlier death," the study authors wrote.
"Anger often gets a bad rap in our society because of the highly publicized and dangerous ways that some people express it (mass shootings, harassment, etc.)," Becky Howie, MA, a psychotherapist and coach at NatureWise Counseling, LLC, tells Elite Daily over email. "But anger, in and of itself, is a perfectly healthy — and actually quite useful — emotion."
According to Howie, anger can sometimes be a cover of sorts for other emotions. For example, she explains, men are often encouraged not to show fear or sadness, so these suppressed emotions can sometimes bubble to the surface as anger, instead. But more often than not, the psychotherapist tells Elite Daily, anger tells you when a boundary is being crossed. "Either we are getting too much of something we don't want or need (someone yelling at us, touching us inappropriately), or not enough of something we do want or need (respect, compensation, love, etc.)," Howie says.
In these moments of anger, if you're mindful of what boundary is being crossed, Howie says it can give you valuable information about how to rectify the situation and find your way back to a centered state of being.
Keeping all of this in mind, it's important to be intentional about your anger, rather than saying or doing things you may later regret. Here are six healthy ways to process your anger that will allow you to express yourself mindfully and without restraint.