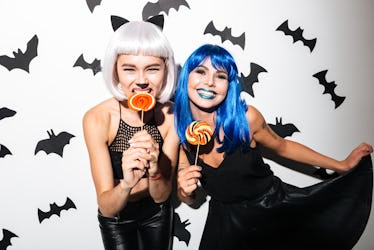 6 Halloween Costumes Under $10 That Are As Clever As They Are Cheap
Shutterstock
Every time I walk into a party store come fall, I am overcome with remorse for the hard-earned dollars my parents wastefully spent on cheaply made Halloween costumes I'd only wear for maybe five hours max. Seriously, I was that kid who'd get bored of trick-or-treating after a block or so, which means, aside from the few times I played dress up as a kid, good ol' mom and dad shelled out a chunk of money in exchange for a cute photo and a bag of candy to rummage through when I wasn't looking. Fast-forward to my 20s, and I can't help thinking who in their right adult mind would pay for a Halloween costume that costs $50, or even $30, when there are plenty of Halloween costumes under $10 that get the job done without feeling like you just wasted a ton of cash.
I promise you, Halloween does not have to be expensive. It's one thing if Halloween is that one holiday you go all in on, as opposed to, say, Christmas. But if on All Hallows' Eve, you're either stuck answering the door for trick-or-treaters, or you're bugging your friends to at least go to a spooky happy hour with you, there's no need to dip into your bank account for overpriced ensembles I can almost guarantee you'll only wear once.
Commit to a $10 budget and get crafty with the Halloween costumes listed below. Chances are, you'll get some use out of an old T-shirt you barely wear anyway, and with plenty of leftover cash, you can splurge for king-size candy bars instead of those teasing miniatures.