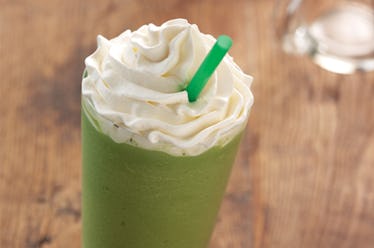 6 Green Drinks To Order At Starbucks For Your St. Patrick's Day Selfies
One of the most exciting parts about welcoming the month of March is looking forward to St. Patrick's Day celebrations. While the holiday is undoubtedly known for some traditional Irish foods like corned beef and cabbage and Irish soda bread, there are also plenty of other ways to celebrate the holiday with a themed treat. One of the easiest ways to make any food or drink worthy of a St. Paddy's Day celebration is to make it green (of course). With that that in mind, here are six green drinks to order at Starbucks to make sure that your St. Patrick's Day selfies are festive AF.
You don't really need an excuse to treat yourself to a delicious Starbucks beverage, but enjoying a green-hued sip in celebration of St. Patrick's Day is as good a reason as any to head to your closest Starbucks for a holiday pick-me-up. Not only will you get a delicious boost from whichever drink you choose, but you'll also have an instant photo opportunity thanks to the pretty green color of your shamrock-inspired sip. You'll think you stumbled upon a pot of gold once you realize how many likes your festively colored Starbucks drink racks up.
1. Cool Lime Starbucks Refresher
This drink is perfect for your St. Paddy's Day celebration because it has the lovely green color that will instantly brighten up your Instagram page. The Cool Lime Starbucks Refreshers Beverage is made with real fruit juice, mint, a slice of lime, and the drink is shaken over ice after the addition of Starbucks Green Coffee Extract. Plus, if St. Patrick's Day turns out to be a scorcher wherever you are celebrating, the Cool Lime Starbucks Refresher is the perfect way to beat the heat.
2. Green Tea Crème Frappuccino
With green right there in the name of this Starbucks sip, you know that you will not be disappointed when it comes to repping your St. Patrick's Day spirit. The Green Tea Crème Frappuccino starts with sweet matcha green tea and milk, and then it's all blended with ice to give it the frosty Frappuccino taste you know and love. If you need to be further convinced to order the Green Tea Crème Frappuccino on March 17, know that it's all topped off with whipped cream to make for your sweetest St. Paddy's Day yet.
3. Lucky Leprechaun Frappuccino
Now that you know how the Green Tea Crème Frappuccino is made, you can easily order up this extremely festive sip that isn't on the regular menu. To snag a tall Lucky Leprechaun Frappuccino, you simply ask your barista to add one pump of peppermint syrup and some java chips to the Green Tea Crème Frappuccino. You'll wind up with the coveted green color that rules St. Patrick's Day, and you don't even need a lucky four-leaf clover to get it.
4. Iced Green Tea Latte
Unsurprisingly, green tea has a starring role in a few of these St. Patrick's Day creations. The Iced Green Tea Latte is a little bit simpler than the Green Tea Crème Frappuccino. The latte is made with the same smooth and sweet matcha green tea and milk, but it's all served over ice with no blending involved. Even though it's not frozen or topped with whipped cream, the Iced Green Tea Latte still provides the green color synonymous with the holiday.
5. Starbucks Green Drink
Similar to the Iced Green Tea Latte in its color, the Green Drink from Starbucks is not found on the regular menu. It was introduced in the summer of 2016 when Starbucks' Pink and Purple Drinks were taking over all of social media. In July 2016, the company introduced a whole lineup of colorful creations, and that's how the Green Drink arrived. You don't need the luck of the Irish to snag this off-the-menu item, though. Simply order a Teavana Iced Black Tea made with matcha and coconut milk instead of water, per Starbucks' official Instagram post about the drink.
6. Green Tea Latte
The last sip on the list is a Starbucks classic, and it provides that vibrant green color to help you celebrate the day. The Green Tea Latte is simply created by combining lightly sweetened matcha with steamed milk. So, you can quickly grab your St. Paddy's Day sip and enjoy both the festive green hue and sweet taste of the matcha.
If the Frappuccino options really stand out to you, you can check out these other St. Patrick's Day Starbucks Frappuccino offerings that are also perfectly colored for a St. Paddy's Day photo. No matter which green beverage you choose to cheers the holiday with, it will surely help you show off your St. Patrick's Day spirit!