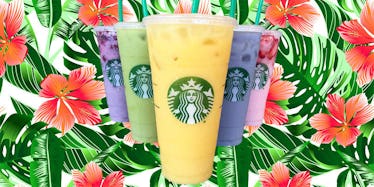 Everything You Need To Know About Starbucks' Secret Menu And Newest Drinks
Shutterstock/Starbucks
It's no secret that Starbucks has really been on its grind this summer.
From nitro brewed coffee to all kinds of limited edition frappuccino flavors, the coffee chain has been adding all sorts of mouthwatering options to its long list of signature beverages.
However, Starbucks' latest Instagram-worthy sips aren't something you'll find on the regular menu.
Yep, if you've been paying attention to the latest food trends, you may have noticed a sudden influx of colorful Starbucks cups on your news feed.
Apparently, theses insanely popular pink, orange, blue, green and purple drinks are all customer-created beverages made with customized combinations of teas, juices and Starbucks Refreshers.
Aside from being downright delicious, these bright beverages are Instagrammable AF, so it's no wonder these rainbow concoctions are creating such a buzz on social media.
If you're looking to get in on the rainbow drink action but not exactly sure how to order these unofficial sips, don't worry, we have you covered.
We recently sat down with Starbucks to try the whole spectrum of drinks and get the inside scoop on how you can order these customized creations without looking like a clueless idiot.
Check out the pictures below to see the everything you need to know about these remixed rainbow beverages.
If you're looking to add a splash of color to your summer sips...
...you'll be glad to know that rainbow drinks are all the rage right now.
Since these vibrant drinks are all customized concoctions, you won't find these secret sips on the normal menu.
But don't worry, Starbucks just spilled the beans on what's in these bad boys so you can order them with ease.
If you're looking to get your hands on the #PinkDrink, simply ask for a Strawberry Acai Starbucks Refresher with coconut milk instead of water. This powder pink drink features a smooth, creamy fruit flavor that tastes pretty similar to a pink Starburst.
You can go for the #GreenDrink by ordering a Teavana Iced Black Tea with matcha and coconut milk instead of water. This glorious green beverage basically tastes like a lighter, non-blended version of the green tea frapp.
You can snag the #OrangeDrink by asking for orange mango juice with vanilla bean powder and a splash of coconut milk. This vibrant citrusy concoction has a smooth mango flavor that is refreshing AF.
You can opt for the #PurpleDrink asking for a Teavana Iced Passion Tango Tea with vanilla syrup, blackberries and soy milk instead of water. This milky pastel purple drink boasts a vanilla flavor with subtle notes of blueberries and cinnamon.
Lat but not least, you can get your hands on the #BlueDrink by asking your barista for a Teavana Iced Passion Tango Tea with vanilla syrup and soy milk instead of water. The #BlueDrink basically tastes like a toned down version of its purple predecessor because it's practically the same thing sans blackberries.
If rainbow drinks aren't really your thing, we also had a chance to sample some of the newest items on the official Starbucks' menu. There's the Teavana Shaken Iced Berry Sangria Herbal Tea (out July 12), which is a sweet, fruity ice tea shaken with apple juice, berries and orange slices.
Plus an Affogato-style Frappuccino that's made by pouring a shot of espresso on top of any frosty frappucino.
Not to mention, the Iced Coconut Milk Mocha Macchiato (out July 12), which features  white chocolate mocha sauce and Sumatran coconut milk, topped with espresso and finished off with a drizzle of caramel and mocha sauce.