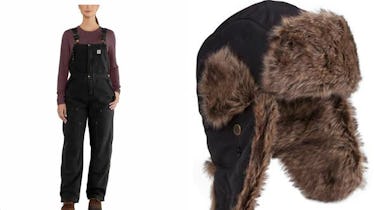 People Who Are Always Cold Would Definitely Appreciate Any Of These 6 Gift Ideas
Carhartt/Mountain Warehouse
Everyone has that one friend who's always freezing cold, right? You know, the person who keeps their parka on even once they're indoors, and parks themselves next to the space heater while vigorously rubbing their hands together? I have a friend from Australia, in fact, who wears a wool beanie and a scarf constantly throughout winter, even when she's inside, because she just can't de-thaw from the frigid city streets. If you, too, have a friend who prefers a tropical climate but lives in a winter wonderland, consider some holiday gifts for people who are always cold. Sure, it might seem a little cheeky, but it's also super thoughtful, and it'll make your loved one's winter so much easier to bear.
TBH, even though I grew up in Vermont, I am also one of those people who would much rather sweat profusely than have goosebumps and chattering teeth. This often means that I have to literally plan ahead for ways to stay warm throughout the winter months, whether that means always wearing tights under my jeans, or having a thousand-ish blankets sprawled across my bed.
Take a look at some of the below ideas to help warm more than just your best (and chilliest) pal's heart this holiday season.