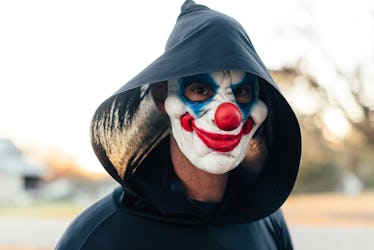 6 Best "Shook" Halloween Costumes That Honor Just How Weird The Year 2017 Has Been
Halloween is the best chance we have every year to do something totally out of our comfort zones. Seriously, what other situation allows you to wear a Scream mask to your workplace, or an inflatable horse around your waist to a bar? Even though it's the ultimate get-out-of-jail-free holiday, it kind of feels like there aren't enough funny "shook" Halloween costumes for you to really blow your friends away.
With the explosion of diversity we've seen both musically and in television in recent years, your best bet for a really "shook" Halloween costume is to channel your favorite TV character, musical performer, or cultural icon. From Lady Gaga, to "Zombie Taylor," to Winona Ryder, there are plenty of sources of inspiration for you to come up with a costume that will scare the crap out of your friends and leave them feeling shook as all hell.
The best part about these Halloween costume ideas is that they require you to give your absolute all while you rock them. After all, it's not so much about the clothing you're wearing, but the way you're acting that will truly surprise and disturb your friends. So make sure that you really get into character when donning any one of these six funny, "shook" Halloween costumes.