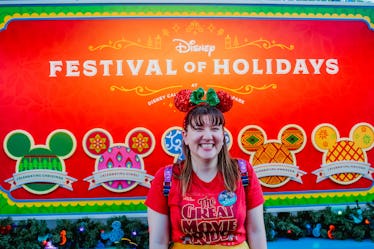 6 Festive Things To Wear To Disney For The Best Holiday Instas
There's a lot of planning that goes into an epic Disney day. Park tickets? Check. Game plan? Set. Outfit? Oh no. You know any day spent at Disney will be an Insta-worthy one, so you want to make sure your outfit is totally on point. Of course, you can't go wrong with a cute Disney tee, Mickey ears, biker shorts, and comfy shoes, but if you're going to the parks during the holidays, you want to know what festive things to wear to Disney to capture the best pics.
It can be as simple as swapping out your traditional ears for some festive ones. But if you really want to upgrade your Insta game, there's a whole lot more you can do. To make packing for your Disney vacay easy, consider checking off each one of these six items. Then, you'll be ready for your close-up (or shall I say Mickey selfie).
If you want to get everything together before you head to this magical destination, you can buy some of the Disney holiday merch that's available online right now. That way, you don't have to shop the minute you hit Main Street, and instead, you'll be camera-ready from your Mickey ears to your toes upon arrival.