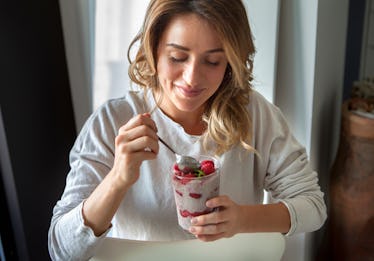 Following The DASH Diet Is Super Easy, As Long As You Stick To These 6 Recipes
After experimenting with a number of diets since college, not only have I come to realize that dieting in general doesn't really work for me, but also, a lot of diets simply require way too much groundwork. Between work responsibilities, class assignments, hanging out with your friends, and whatever else you've got going on, who has time to whip up a five-course meal highlighting ingredients you've never even heard of that cost a fortune? The DASH diet recipes I've stumbled upon during my research of this totally uncomplicated way of eating, though, can be made in a jiff and taste amazing, despite how little effort is necessary to make them.
Now, if you glazed over the whole "uncomplicated" detail and went straight to "diet," you might still be stuck on what the heck I'm even talking about. If you haven't heard, the DASH diet is a really simple way of eating that, honestly, you probably already follow to a T or, if not, you're pretty damn close.
See, rather than limit your caloric intake, or categorize certain foods as toxic, the DASH diet is all about balance, and eating a diet that primarily consists of the good stuff — like fresh produce, fish, poultry, low-fat dairy, and the like — while still letting yourself have that wiggle room to eat treats when you want to. As long as you're keeping your sodium intake generally low, you're on the right track.
But why call it a diet if it's not exactly a, well, traditional diet? Eliminate the word for a second, and just consider the benefits that come with eating this way. See, good-for-you food is optimal for your gut, and when your gut's happy, everything's happy: your stomach, your heart, your brain, and — you guessed it — your mood. So rather than whine and dine, wouldn't you rather smile while you snack and enjoy your meals, knowing that what's going into your body is going to make you a healthier, happier person? I sure would, so to get you started, browse the recipes below for easy DASH diet meals that keep you full and full of life.