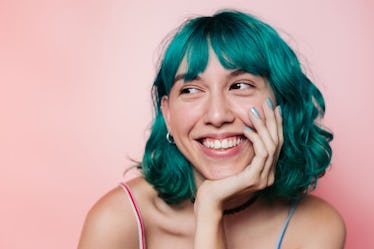 Here's What Your Dental Hygienist Wants You To Put On Your Holiday Wishlist
Now that Thanksgiving leftovers have been gobbled up, gift-giving — and receiving — season can commence. But here's the thing about grown-up holiday wishlists: You end up jotting down things you need rather than things you want, since adulting means being able to buy whatever you want, whenever you want it. So, instead of impatiently waiting an entire 365 days to see if the big guy in the red suit checked everything off your wishlist, you can just treat yourself year-round. But the items you add to the list can be both interesting and innovative, like dental health stocking stuffers that look kind of cool sitting on your bathroom shelf and improve your oral hygiene. After all, you'd eat an apple a day to keep the doctor away, right? Why not approach 2019 with the same attitude toward your dentist?
2018 was a bit much, to say the least, especially when it came to some pretty shocking revelations about dental hygiene. To refresh your memory, back in February, oral care start-up company, Hello Products, found that a whopping 30 percent of 2,000 survey participants only brush their teeth once a day. And the worst part is, the people who were surveyed were millennials. Way to represent the generation, guys.
Now, for the record, I am in no position to point fingers. Have there been days when I forgot, or was just too lazy to brush my teeth twice? Sure. Could I be flossing more often than I already do? Absolutely. Unless your dental hygiene is spot-on, though, I think it's safe to say we could all benefit from approaching oral health the same way you would your skin routine, or even exercise. Consider 2019 a redemption year for your pearly whites by adding a few of these dental health stocking stuffers to your wishlist.