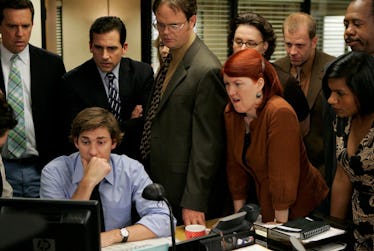 If You Love 'The Office,' Here's What You Should Watch On Netflix Right Now
NBC
Confession time: I love The Office, but sometimes I get tired of watching the same episodes over and over again. As much as I enjoy watching Michael burn his foot on a George Foreman grill, cheering on Pam and Jim's relationship, or laughing as Dwight falls for yet another prank, I also like discovering new comedies to watch on Netflix that share the same Office-like qualities. I'm always on the hunt for a seriously funny, seriously creative, and seriously emotional (at times) comedy that will give me something to watch when I can't quite make it through the dreaded Season 8 — far and away the worst season of The Office (sorry, Nellie).
Luckily, there are plenty of amazing comedies on Netflix that will give you the same feeling as The Office while also providing a little dose of something new. Some of these comedies come from The Office veterans, some share its commitment to ridiculousness, and some are just so funny that I can't believe the whole world isn't watching them. There's something for everyone among these comedies, so no matter whether you're an Angela, a Creed, or a Stanley, you'll definitely find something to enjoy in Netflix's vast library.
Parks and Recreation
This one may seem like a no-brainer, but it's shocking how many people who love The Office haven't actually watched Parks and Rec. The Amy Poehler-led series comes from The Office creator Greg Daniels and writer/actor Mike Schur, who played Dwight's cousin Mose and wrote 12 episodes throughout the show's run. In Parks and Rec, Poehler's character Leslie Knope oversees the Pawnee, Indiana Parks and Recreation Department, but her dreams extend far beyond Pawnee: she wants to run for president and change the world for the better. Leslie's optimism is often overshadowed by her less-than-enthusiastic colleagues, who pretty much just want to live their lives free of Leslie's intervention. Sound like another hilarious workplace-based comedy you know?
The Good Place
Another Mike Schur special, The Good Place is literally the funniest show you're not watching. The Good Place follows Eleanor Shellstrop (Kristen Bell in her best role to date) as she arrives in the afterlife, but she quickly realizes that she's been wrongly assigned to the afterlife for good people instead of the afterlife for delinquents like herself. There is nothing quite like The Good Place on TV: every episode, the show totally reinvents itself, and by the end of the first season, you'll have absolutely no idea what's going on — in the best way possible. This hilarious comedy just finished its second season on NBC, but Season 1 is currently on Netflix (and Season 2 should be shortly), so get streaming!
Shameless
OK, I'm done plugging Mike Schur (but have you seen Brooklyn Nine-Nine? Done now, I swear). If you love the balance between ridiculous and heartfelt moments in The Office, you'll love Shameless, Showtime's comedy about a dysfunctional family in Chicago's South Side. At times, Shameless feels like a drama — there are plenty of heavy plot lines that will leave you weeping — but the show's overall jokey tone pushes the show firmly into comedy territory. After all, how can a show that features a plot line about a "thruple" (a romantic relationship between three people) be a drama? Starring Emmy Rossum, William H. Macy, Jeremy Allen White, and more amazing young actors, this ensemble comedy is one you won't want to miss.
American Vandal
Few things that premiered in 2017 were funnier than American Vandal, Netflix's true-crime satire. In Season 1, high school stoner Dylan Maxwell (Jimmy Tatro) was accused of spray painting d*cks onto all the cars in the faculty parking lot, and documentarians Peter (Tyler Alvarez) and Sam (Griffin Gluck) stepped in to prove his innocence. American Vandal is a perfect beat-for-beat recreation of true crime stories like Making a Murderer, and even though it premiered 12 years after The Office, it definitely shares some of the same comedic beats as the "Scranton Strangler" story line. Speaking of, did you know that Toby might actually be the infamous Scranton Strangler? Maybe Peter and Sam can figure this one out for us.
Portlandia
Nothing leans into the absurd quite like Portlandia, Fred Armisen and Carrie Brownstein's satire of life in Portland, Oregon. Each episode, Armisen and Brownstein take on various types of Portland natives, including bohemian artists, missionaries, and start-up founders, and with the help of some amazing costumes, they totally succeed. Fans of the most outrageous parts of The Office — Michael driving his car into Lake Scranton, the epic "Safety Training" sequence — will feel right at home watching Portlandia.
Big Mouth
Where do I even start with Big Mouth? Big Mouth is what would happen if a seventh grade puberty video had a baby with an animated SNL skit. The Netflix series follows Andrew (voiced by John Mulaney) and his best friend Nick (Nick Kroll), two middle school boys who are just discovering puberty. With the help of the Hormone Monster (also Kroll), Andrew and Nick learn about masturbation, talking to girls, and acne, which is pretty much as cringe-inducing as it sounds. However, it's also completely hilarious, especially as their friend Jessi (Jessi Klein) starts going through the same changes, and a female Hormone Monstress (Maya Rudolph) emerges to assist her. Watching the Hormone Monster and Monstress explain puberty is like watching Michael Scott explain "Michael Scott's Dunder Mifflin Scranton Meredith Palmer Memorial Celebrity Rabies Awareness Pro-Am Fun Run Race for the Cure" to potential donors: totally ridiculous and also kind of wrong, but funny nonetheless.