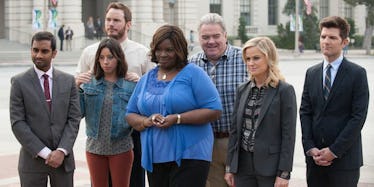 'Parks And Rec' Cast Had An Adorable Reunion That Will Make You Miss Pawnee So Much
NBC
In a week full of crazy politicians, transphobia, and Confederate, you know what I needed? A Parks and Rec cast reunion. Yes, that is exactly what I needed, and maybe there is a God, because reader, my prayers were answered. Because not only did the cast of Parks and Recreation reunite, but someone was there to take a photo to document the reunion. What more can you ask for in life, really?
This blessing has been brought to us all by the premiere of Ingrid Goes West, Audrey Plaza's new comedy-drama that she stars in alongside  Elizabeth Olsen, Billy Magnussen, Wyatt Russell, Pom Klementieff and O'Shea Jackson Jr. The film is written and directed by Matt Spicer and is scheduled to be released in theaters Aug. 11. Apparently, the employees of the Pawnee Parks Department weren't about to let their favorite intern April go to her movie premiere without some support.
Amy Poehler, Retta, and Chris Pratt (aka Leslie Knope, Donna Meagle, and Andy Dwyer) all showed up to the Ingrid Goes West premiere in Los Angeles to support their fellow former Parks and Rec cast member. April and Andy shippers will find this reunion particularly sweet — FBI Agent Burt Macklin and Ms. Janet Snakehole, together again at long last.
Are these or are these not the greatest photos you've ever seen? What's that? You prefer the photos of firefighters saving little kids and other crap like that? Well, your opinion is invalid and you're a fake fan. C'mon! Look at Amy Poehler's glorious, gleeful face! Look at Audrey and Chris practically glowing in one and other's presence! I'm tearing up just looking at these!
I know it's only been two years since Parks and Rec went off the air, and I know it had a decent seven-year run, and I know things weren't the same without Rashida Jones but... does anyone know who I would talk to about Parks and Rec reboot? Preferably with the exact same cast and writers? Michael Schur? NBC? Bueller?