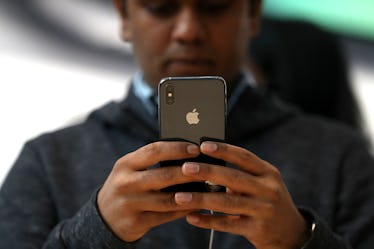 Here Are All The Black Friday iPhone Deals You Need To Know About
Justin Sullivan/Getty Images News/Getty Images
Black Friday doesn't only mean the return of bargain prices for designer clothes. Tech deals, as ever, are just around the corner, and some of the most notable of them are Black Friday iPhone deals that can land you the iconic Apple product for a low price. There are several options, too, despite what you may have assumed.
"A lot of people assume they can't get a discount on Apple products, so these deals really stick out," Dealnews.com's Lindsay Sakraida told USA Today.
Sites like DealNews.com and others have profiled a number of iPhone deals that are coming Black Friday, including deals for the latest model, the iPhone X (pronounced "ten").
Here are some of the best.
Walmart — iPhoneX, 8, 8 Plus, 7, and 7 Plus
Starting at 6 PM on Thanksgiving day, you can find a deal for the iPhoneX at Walmart. The monster retailer is offering a $300 store-credit gift card to customers willing to shell out the $1,000-plus required to get their hands on the iPhone X.
The offer is also available for older iPhone models, all the way down to the iPhone 7. There is a catch, though. Customers who want to sign up for this deal will have to sign a two-year service contract with either Verizon or AT&T.
Target — iPhone8 and 8 Plus
Target is offering a similar deal for iPhones at Walmart, but only for two models. If you buy and iPhone 8 or 8 Plus from Target, you'll get a $250 gift card. This purchase also requires a contract, though, with either Verizon, AT&T, or Sprint.
The two phones can only be purchased in stores and not online.
Best Buy — iPhone8 and 8 Plus
Best Buy is offering up a savings of "up to" $200 outright, without a gift card, on purchases of the iPhone 8 and 8 Plus on Black Friday. The $200 won't be knocked off the retail price, however.
This deal requires signing up for a two-year contract with Sprint, which features a monthly installment plan to payoff the phone. Customers would then see the savings accrue month-to-month as the Best Buy deal would feature a lower monthly payment than otherwise.
Walmart — iPhone SE
Walmart has a deal for a much older model at a much lower price. Unlike the others, though, this deal doesn't require signing up with a major service provider.
You can purchase the iPhone SE for $130, which knocks off $70 from the retail price, amounting to a 35 percent discount.
Sam's Club — "Any iPhone"
Sam's Club has an offer that promises $100 off of an iPhone purchases. The store will offer a gift card, just like Target and Walmart, but it's ads emphasize that the deal will be available for "any iPhone," though it's not exactly clear about whether that actually includes all models, like the iPhone X.
The deal is available from November 24.
T-Mobile — iPhone 8, 7 and 7 Plus
T-Mobile is offering one of the most creative deals of them all, and the company is not even waiting 'til Black Friday to make it available. With the purchase of an iPhone 7, 7 Plus, or 8, customers are eligible to receive another phone of equal or lesser value for free, with the purchase of another line on the contract.
The phone can be bought online or in stores, and the free phone would be paid for via a prepaid MasterCard, the company's site says. Meanwhile, the full price of the original phone purchases would be paid over the life of the contract, in a deal similar to the Sprint deal at Best Buy.