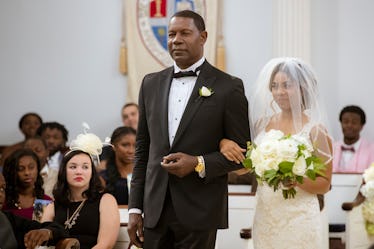 6 Best Movies On Netflix That'll Pump You & Your Tribe Up For Wedding Season
The birds are chirping, the flowers are blooming, and there's a sense that love is in the air. That can only mean one thing — wedding season is near. Perhaps your bae has popped the question, or you've been invited to join your BFF's bride tribe. Maybe you aren't hearing the bells at all, but you just love a good romance story. Either way, there's no denying that we have wedding fever and the only prescription is to just embrace it with a night in with your girls watching some of the best wedding movies on Netflix.
If you're already in the spirit of the season, this will truly be a Netflix and have-zero-chill night as you and your friends get super pumped up watching bride after bride walk down the aisle. Any bride-to-be will relish in this girls' night, gathering her squad to get totally inspired for what is to come. Heck, maybe you'll snag a few ideas from these seven movies to use on your big day.
Even if you are aren't getting married, you really don't need an excuse to spend time with your fav girls for a themed movie night. So, get that popcorn going and set up the flicks, because we're about to get engaged to a night of some movies you will definitely want to say "I do" to.