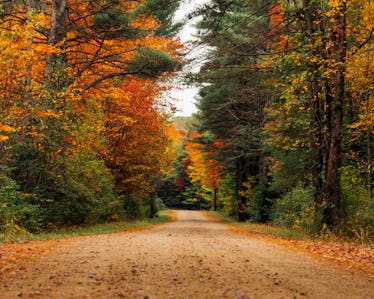 The 6 Best Vermont Towns To Visit In The Fall For The Dreamiest Foliage #Views
The struggle's real: You wait all year long for fall to roll around, but before you know it, you're bundling up in your warmest sweaters and embracing the magic of winter. It's important to make the most of fall while it's still here, because it goes by within the blink of an eye. And whether you choose to celebrate the beauty of the season by going on a road trip with your girlfriends or attending an autumn festival, the time is now. So, why not hit the road and check out the best Vermont towns to visit in the fall?
It's no secret that Vermont is the ultimate destination to visit if you love fall. If you want to experience the full vibrancy of the changing leaves, then this is the place to explore. The state is covered in pristine foliage, so you can go hiking or drive a scenic byway to take in all the #views. You'll be blown away by the unbelievable hues of orange and red you see along the way. You'll also enjoy stopping in quaint villages and historic towns that look like they were made for postcards. You could even go all out and drive though a variety of towns to see what they all have to offer. Let's just say, you'll want to return to Vermont over and over again.