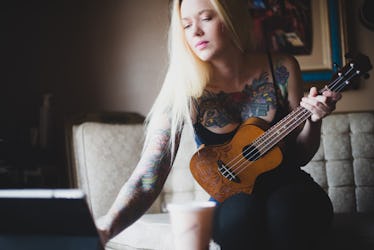 The Best Song Lyrics For Your Next Tattoo Will Have You Dancing
We all get that feeling when our favorite song comes on the radio that gives us the complete need to sing along. Maybe we even add some moves and dance like no one is watching. It's not just the music that gets you— the lyrics actually speak to you as well. Many times, it's the words you relate to that can make you fall even more in love with your favorite song. When verses really speak to you, they usually have a very special meaning. Words to the songs we love say what you may be feeling in a perfect way. So, the first time or next time you decide to get inked, you might want to consider some of the best song lyrics for tattoos.
Whether it's your first tat or you're covered from head to toe, the design decision process is never easy. You may have a vague idea of what you want and where to get it, but a tattoo is permanent, so you must be pretty confident about what you want before you go. For anyone who's still deciding, a song lyric tattoo is an easy choice. If you're a hopeless romantic, love song lyrics will show off your heart. For those who love to travel, a song of wanderlust would be a great choice.
I've listed six song lyrics to inspire you. Choose any of these, or go with one of your favorites. Either way, we're hearing the music and ready to get inked.