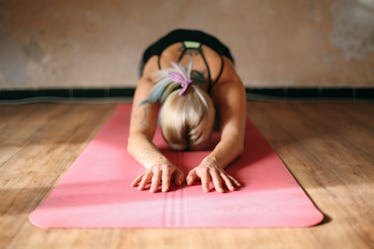 If Your PMS Goes Straight To Your Lower Back, These 6 Stretches Will Ease The Pain
PMS can be truly excruciating at times. Those monthly menstruation woes can include annoying ailments such as sore breasts, nausea, mood swings, and, my personal least favorite of the bunch, lower back pain. If back pain is your biggest PMS struggle each month, these back stretches for period pain will definitely help you feel like a semi-functioning human being again.
Having lower back pain during your period is one of those things that, at first, doesn't seem like it makes much sense, which makes it that much more frustrating to deal with. Yes, cramps are awful, too, but like, I get it: My uterus is literally contracting and pushing blood out of my body; that makes sense to me, at least. Back pain, on the other hand, just seems like some cruel cherry on top of what's already the worst week of the whole month.
However, there is some rhyme and reason to this annoying PMS symptom. According to the Virginia Spine Institute, back pain happens during your period because of hormonal changes happening in your body during that time — specifically, hormones called prostaglandins, which are released at a higher volume during your time of the month to help shed your uterine lining. As these hormones are released, the institute explained, this can have an uncomfortable effect on your lower back muscles. Plus, the cramps you're experiencing in your abdominal area can actually radiate all the way into your lower back. Ah, the joys of being a woman!
Of course, if your back pain is getting to a point where you can hardly even get up and go about your daily routine, it's in your best interest to talk to your doctor about what treatments might be best for you. However, if you're just looking for a little bit of relief from your lower back pain, try out these six stretches the next time PMS tries to take you down.