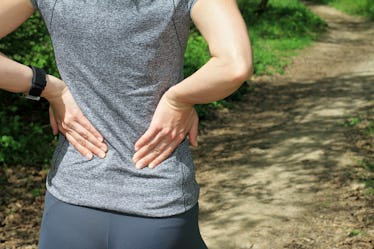 If You Notice These 6 Red Flags In Your Back Pain, It's Time To Get Checked Out
There's nothing worse than feeling totally incapacitated because of an injury. When you have back pain, it can be debilitating, and it can keep you from doing your usual, everyday activities, like working out, spending time with friends, or just plain being alive without feeling physically miserable. But when you're in pain, it can sometimes be difficult to distinguish between minor, short-term discomfort, and something that requires a professional opinion. This is why it's always helpful to be aware of common back pain red flags, so you know when it's time to make an appointment with your doctor.
The main reason why you should be extra cautious about back- and neck-related injuries is because of their proximity to your spine. A bad back injury could mean that a portion of your vertebrae isn't totally aligned, or that you have a pinched nerve, according to the Mayo Clinic. Of course, back injuries can also just indicate sore muscles, which is no biggie, but because your back is so instrumental for your mobility, you should always try to get to the bottom of any discomfort you're feeling in this part of your body.
There are tons of ways to soothe your back pain, from seeing a chiropractor to getting acupuncture, but the first step you have to take is this: figure out what's going on. Here are six back pain red flags that might just mean it's time to see your doctor.