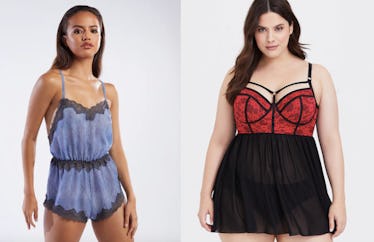 6 Holiday Lingerie Pieces That Prove You Can Look Festive & Frisky All Night Long
Savage x Fenty + Torrid
Lingerie is fun any time of year, and doesn' have to be reserved just for spending Valentine's Day with a significant other. While you're off getting presents for everyone else this holiday season, why not get a little special something for yourself, too? I dug around the internet for 2018 holiday lingerie pieces. These will surely be items you'll want to wear either underneath your regular outfits, at home alone when you're #FeelingYourself, or to impress a partner during Christmas, Hanukkah, Kwanzaa, or whatever you celebrate in December.
Because yes, lingerie may seem like something non-essential in your wardrobe, but when you wear it, you do feel like a million bucks. And who doesn't want to feel that way during the holidays? You'll instantly feel more glammed up and sexy, and there's no reason to not want to feel that way. I picked out some holiday pieces from several recognizable brands, which range in sizes, prices, and holiday spirit. Regardless if you're wearing this secretly throughout the work day, lounging around by yourself at home, or showing it off to your partner, you'll feel more confident wearing something so hot. So read on for some of my favorite lingerie holiday picks for this season.
Get in the Hanukkah spirit in this cozy chiffon romper that is both sexy and comfortable. The blue color will feel festive during the Hanukkah holiday, and you don't have to break the bank to get it, too.
Regardless if you've been naughty or nice this year, this black-lace bra is a lot better than receiving coal. From AA to G cup sizes, and the ability to purchase in installment plans if you desire, this ThirdLove option is likely screaming any size-busted person's name.
While the shade of this bra may evoke calm, snowy days, its hardware and cutout design is much sexier and feisty. Opt for matching white underwear and thigh-high socks to complete the look.
If you want that kind-of-like Santa Claus lingerie look without going full on with the white fluff, try this babydoll from Torrid instead.
This Natori bra and underwear combination from Bloomingdale's has a bra that sizes from B to DDD, which is a larger size range for cups than many equivalent lingerie brands. The bottoms in the set are firetruck red as well, with lace to match.
This inexpensive option is a dark green, so it can match the Christmas tree in your place. It comes with a bralette and high-rise underwear.
No matter who you're wearing lingerie for or why you're wearing it, all that matters is that you feel like a more confident and badass version of yourself in it. Choose a babydoll if you're feeling more flowy, a velour two-piece if you like the softness against your skin, or a special lacy bra to wear underneath a "regular" outfit. As long as you're feeling yourself, you're golden.