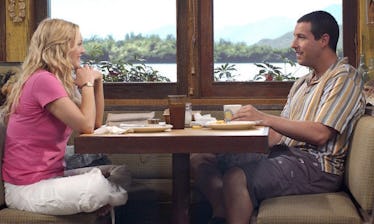 '50 First Dates' Is Coming To Netflix & "Wouldn't It Be Nice" Is Already Stuck In Our Heads
Columbia Pictures
March is just around the corner, and you know what one of the most exciting parts of a new month is? In addition to checking your horoscope and prepping your calendar, there are fresh Netflix additions to get pumped about. The full list of new titles coming to the streaming service won't be available until Feb. 22, though we are aware of one rom-com fave you can expect to binge-watch over and over again. 50 First Dates is coming to Netflix, so get ready to plan your nights on the couch accordingly.
Don't even try to deny it. Adam Sandler and Drew Barrymore are one of cinema's most adorable duos of all time. Ever since 1998's The Wedding Singer, it was clear these two entertaining humans should just continue to make movies together. 50 First Dates, about a woman with short term memory loss who wakes up every day without knowing what happened the day prior, quickly became a favorite with fans upon its release back in 2004. Thanks to Netflix, you can watch this fine film whenever your heart desires come March. Next month is already shaping up to be a good one. Who doesn't love a feel-good comedy about two people finding love against all odds?
While you wait to get your #SandMoore on, there are plenty of other great things to devour on Netflix. Last month, they introduced a handful of beloved movies like American Pie, Meet the Parents, Men in Black, and Ella Enchanted.
While we don't know what Netflix has in store for next month entirely, we do know that the highly-anticipated second season of Jessica Jones will be released on March 8. If you need a refresher course on the twisty Marvel superhero drama, you can binge the first season now. Better get crackin,' because Season 2 looks good. The show's star, Krysten Ritter, spoke to Entertainment Weekly about how the story will differ in this upcoming installment. She said,
Jessica is in a pretty dark headspace when we meet her at the top of Season 2. What we've done again is kept the story very personal. If Season 1 was in her head and in her mind, then this season will be more in her heart. It's still a psychological thriller, but it's more of an emotional thriller this time.
If you're looking for something a little less intense, the final season of Judd Apatow's Gillian Jacobs/Paul Rust will-they-won't-they edgy romantic comedy series Love hits the streaming service on March 9.
In addition to faves coming back for more, March will see the premiere of coming-of-age comedy On My Block (which comes from the creators of MTV's Awkward) on the 16th of the month.
Netflix also has you covered right now if you're trying to prepare for the Oscars, which air on March 4. Their original film Mudbound, which is nominated for Best Original Screenplay, Best Original Song, Best Supporting Actress, and Best Cinematography, is currently available. The Boss Baby, which is nominated for Best Animated Feature, is also ready for your viewing pleasure. Netflix has Best Costume Design and Best Production Design nominee Beauty and the Beast, as well as three Best Documentary Feature nods — Strong Island, Last Man in Aleppo, and Icarus. That pretty much gives you no excuses when the category comes around and you pull the old "I couldn't get to the theater" excuse.
Are you not entertained?!
50 First Dates, we are ready to have you at our fingertips when March rolls around. It will be nice to know you will be there for us on a lazy night-in in the near future.