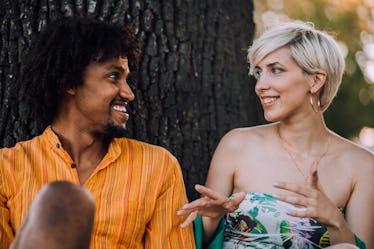 5 Zodiac Signs To Date If You Love Deep Conversations
MixMedia/E+/Getty Images
Getting lost in a deep conversation is the best feeling, especially when it happens with someone you're interested in dating. Have you ever walked into an early date feeling nervous, only to get so caught up in thoughtful discussion that you don't check your phone for hours? It's intoxicating. For zodiac signs that love deep conversations, this kind of connection can feel like instant chemistry. There's nothing better than realizing you share so many beliefs, concerns, and values with someone else. The two of you feel like kindred spirits almost instantly.
If you can have these deep and honest conversations early on in your relationship, it bodes well for your ability to communicate effectively moving forward. Plus, you know you'll never get bored when you're hanging out together, even if you have nothing specific to do. Some people naturally gravitate toward stimulating intellectual conversation, so it's worth examining the zodiac signs to see who falls into this camp. Then, you can seek out a partner who shares your enthusiasm for pillow talk, hearty debate, and long walks on the beach.
Keep your eye out for these five zodiac signs and their enduring love for dialogue. You just might fall in love after one long coffee shop chat.