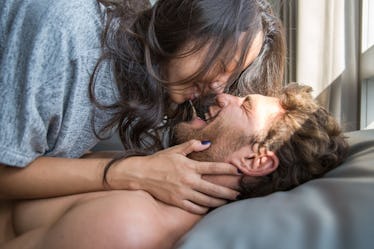 If You're Looking For Meaningful Conversation, One Of These 4 Zodiac Signs Is For You
There are few things I find sexier than a cunning linguist — AKA, a good conversationalist. I want all the witty banter — before sex and definitely after. (But not during, because "Shhh! I need to concentrate.") Which is why I tend to be attracted to zodiac signs known for their meaningful conversation. I want to laugh, I want to be intellectually challenged, and I want someone who knows how to listen, too. So, while signs like Scorpio definitely have their charms, they are never going to steal my heart like a chatty Libra. Swoon.
While anyone can learn to be a good conversationalist, some folks are just born with the gift of gab — literally. These are folks who aren't afraid to ditch the small talk and get deep, personal, and sometimes downright philosophical. And I am so here for it, because communication is one of the key ways we really get close to another person. Plus, who doesn't love that phase in a relationship where you can just talk and talk for hours? With these signs, that phase never really goes away. So if, like me, you have a deep appreciation for pillow talk, here are four signs you're going to want to get with ASAP.