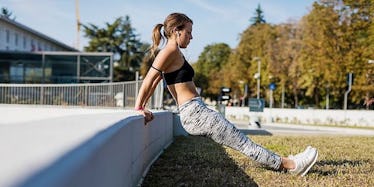 When Your Lower Back Is Aching, Be Sure To Avoid These 5 Workouts So You Don't Fuel The Fire
You know the feeling: You're halfway through a challenging workout, you kind of want to submit to the sweet release of death in a puddle of your own sweat, but you're hanging on because you're actually really proud of yourself for #KillingIt. Then suddenly, your lower back feels like a giant rhinoceros plopped his big butt down on top of you. Seriously though, an aching lower back is the worst, and it can be so debilitating as you go about the rest of your day, which is why it's crucial to know which workouts to avoid with lower back pain so you don't fuel the fire any further.
According to the American Chiropractic Association, over 30 million Americans struggle with lower back pain on the reg, so yeah, you are far from alone on this one, fam. Some cases can be more serious than others (such as osteoporosis, or a major injury to the lower back), but oftentimes, lower back pain is caused by something as mundane as sitting hunched over a desk for hours on end. Perhaps that rings a bell? For many, it totally does, and the technical name for the pain is "extension syndrome."
While the right kind of movement can be incredibly therapeutic and healing to your lower back, the wrong workouts can easily turn an aching back into a full-on, throbbing disaster that leaves you couch-ridden for days. Here are five workouts you should probably avoid whenever your lower back is acting up.