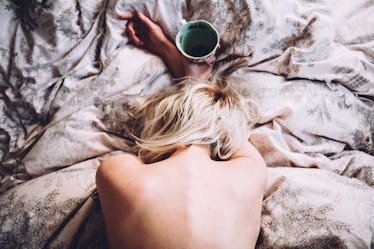 5 Little Things You Can Do For Your Partner During Hard Times That'll Really Help
Even the happiest, most optimistic peeps out there find themselves in a bad rut from time to time. Life ain't always easy folks. Seeing your partner suffer through a rough period can be really hard. You want to help them see the bright side, without making them feel like you aren't taking their problems seriously. Everyone processes emotions — like sadness, grief, and feelings of helplessness — differently. So, the best ways to help your partner during hard times might not be obvious.
Maybe they lost someone who they were super close to, maybe they're completely fed up with their soul-sucking job, maybe they received a crushing rejection, or maybe they are struggling with feelings of sadness but can't seem to pinpoint the exact cause. We've all been down at some point in our lives, and during these crappy weeks, months, or even years, knowing that our partners and friends are there for us is so important. And if you feel like you've tried everything, then sometimes just asking them what they need is one of the best things you can do. If you want to be the best bae you can be for a partner who needs some extra TLC, here are five things you can do to help.