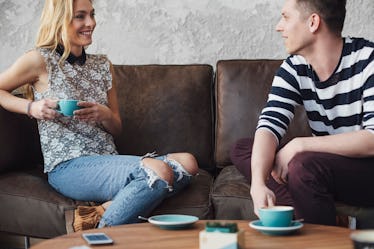 If Your Conversation With A First Date Is Awk, Try These 5 Ways To Change The Topic
Going into a first date, nerves are typically on blast. When it's with someone who you've had good texting exchanges with, the stakes can feel very high. But few things can be more uncomfortable than finding yourself in the middle of a conversation that just isn't jiving. Knowing how to fix an awkward conversation on a date can feel like a pretty daunting task. Communication with a date can sometimes feel so fragile early on, not to mention you're trying to relate to someone who is basically a stranger — but there are definitely some strategies you can use to try to get things back on track.
I think we can all agree that the majority of first dates usually come with varying degrees of awkwardness. Whether it's the occasional lull in the conversation, or accidentally saying something that you realized sounded completely dumb — it happens! But the truth of the matter is that getting to know someone doesn't happen in a super seamless way. This means that a totally awkward first date could potentially blossom into a pretty cool relationship, just like a promising first date can just as quickly fizzle shortly after. Learning to navigate different types of conversations with different people can be a great way to challenge yourself and give the person you're with the chance to shake off the nerves.