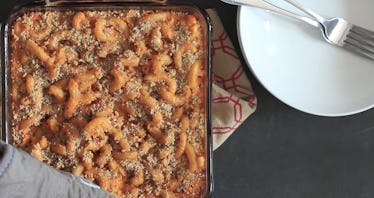 5 Vegan Mac & Cheese Recipes For Friendsgiving Every Foodie Will Approve Of
Celebrating Friendsgiving is all about being thankful for the incredibly special friends you have in your life, all while coming together to enjoy some iconic dishes like turkey, stuffing, cranberry sauce, gravy, and sweet potato casserole. My mouth is watering just thinking about it. And if you're vegan or vegetarian, there's a way to recreate pretty much anything on your Friendsgiving spread, so don't even fret about it. A quick YouTube search will help you find a vegan version of almost anything, so there's no reason for vegans to feel left out at your Friendsgiving bash. In fact, there are tutorials that will seriously blow your mind (yes, they're that good), including vegan mac and cheese recipes.
I know what you may be thinking... vegan mac and cheese? Are you sure about this? I'm literally positive. If you're still kind of skeptical about the idea of it, just trust me, because vegan mac and cheese will change your life within the first bite. These five mac and cheese recipes are the perfect side dish for any Friendsgiving party, whether you're vegan or not. They'll be a hit with every friend at the party, so much that your guests will be craving more helpings. Read on for all of the amazing recipes, but you've been warned: Major food envy and drooling lie ahead. Brace yourselves.