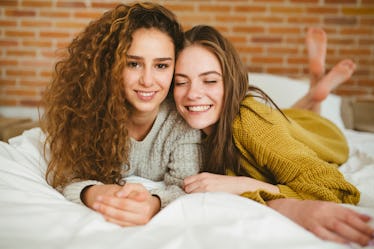 5 Valentine's Day Ideas For Your Girlfriend That'll Definitely Show Her The Love
Every day is a good day to let your queer love shine, but with Valentine's Day falling at the tail end of Aquarius season, Feb. 14 is going to be a particularly auspicious day for celebrating your girlfriend and yourself. Of course, gift-giving isn't the only way to show your appreciation for your SO. Writing a love poem or making an amazing Valentine's meal are equally valuable ways to show your appreciation. But if it's in your budget, a few well-intended gifts never hurt. These Valentine's Day ideas for your girlfriend are thoughtful, sensual, super considerate, and definitely not overdone or cliche. They last longer than flowers, are less expensive than fancy jewelry, and will be way more nourishing for your soul than a box of chocolate. Plus, you won't suffer a sugar crash after Feb. 14 is all over. (Not that I'm hating on chocolate or anything — chocolate is one of my best friends.)
As an added bonus, pleasing your partner with one of these gifts will benefit a small business or individual. Because if you have an opportunity to spend money to show your affection this season, you might as well spread the love to everyone.
Here are some unique gifts to surprise your girlfriend this Valentine's Day.
1. Rose Quartz Essence Ritual Oil
Adding eight to 10 drops of this ritual oil to an intentional bath enhances the water with all of the properties of rose quartz, the crystal that is used to attract healing love into your life. It grants you the ability to see beauty in more places, enhances your self-image, and brings harmony to your relationships.
This oil can be used to anoint different objects during rituals, and can be rubbed on the heart chakra to bring in more love — maybe even while you're making it!
2. Oxblood Leather O-Ring Collar
Wild Wolf Leatherwork is a small leather working shop run by two partners out of Southern Appalachia. Their products harmonize fetish with fashion, and are intended to help wearers "transmute and harness self-love and to embody your sensual, influential self." All products are handcrafted out of high-quality hardware and leather, and are custom made to suit all different kinds of bodies and genders.
3. Golden Moth Oracle Deck
Artist Aijung Kim's beautiful, simplistic line drawings adorn this divinatory deck, and you don't even need a deep understanding of tarot to read or make sense of its spreads. Although the 75-card deck comes with a useful guide to help you interpret the images, it really is intended for you to let your intuition be your guide. Readings with the Golden Moth deck offer a great deal of clarity and help you attune to your inner voice. This is a great gift for someone who is newly interested in working with the cards, someone who wants a new take on tarot after years of practice, or anyone else who is interested in runes and other ancient methods of divination.
4. Goddess Wisdom Course
Chani Nicholas is one of the internet's favorite astrologers for good reason. Her horoscopes are accurate, insightful, and charged with the wholesome wisdom of the ages. Her special courses contain all of the amazingness you read in her weekly or monthly horoscopes, times 10. This goddess course is an amazing gift for your queer lover. It not only provides a lot of valuable context about the mythologies associated with each goddess, but it tells you exactly what their placement in your astrological chart means for you, as well as provides you with rituals to embody them. And, as these goddess powers appear in everybody's charts, this gift isn't gendered. In these times, who wouldn't benefit from a little more goddess power in their life?
5. A Surprise Gift From Surprisily
Surprisily
https://surprisily.com
$25
If you want to get your significant other or friend a gift but aren't sure what they would like, Surprisily is here to help you by curating a surprise present just for them, from you. All you have to do is answer a few quiz questions about your friend or love interest and select a price point. Surprisily takes the information you provide and does all the rest. They find a gift from one of their unique makers and sending it to your sweetie's door. It's quick, it's efficient, it's stylish and with many different ethical gift options, it's pretty sustainable. And since the gifts are designed to cater to men, women, and non-binary folks, they're with the times, too!
Check out some of Surprisily's featured gifts to get an idea of what they're offering. But no peeking! This gift will be a surprise for everybody, including you.
Check out the entire Gen Why series and other videos on Facebook and the Bustle app across Apple TV, Roku, and Amazon Fire TV.
Check out the "Best of Elite Daily" stream in the Bustle App for more stories just like this!