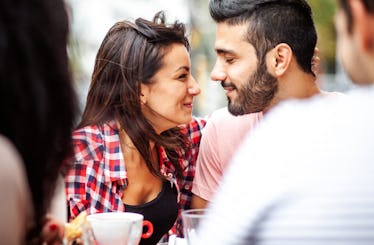 Try These 5 Underrated Ways To Make Your Partner Feel So Appreciated
sanjeri/E+/Getty Images
No matter what your personal opinion on Valentine's Day may be, there's one positive anyone can take from this time of year: Making it a point to show your partner how much you appreciate them. And showing your gratitude doesn't have to come in the form of flowers or a box of candy. There are many ways to make your partner feel appreciated, and to show them how much you love them that can have just as big an impact as any Valentine's Day date, any time of year. It's all about the small gestures that say, "I see you, love you, and I'm happy you're part of my life."
Sometimes the biggest impact can come from the smallest and simplest gestures; things like simply being fully present in the moment with your partner, or going out of your way to touch them and show them affection. When it comes to showing appreciation, grand gestures are great, but it's the little everyday ones that can often mean the most. All that matters is that it comes from the heart.
If you want to show your partner how much they mean to you, here's how the experts suggest you express your love and appreciation.