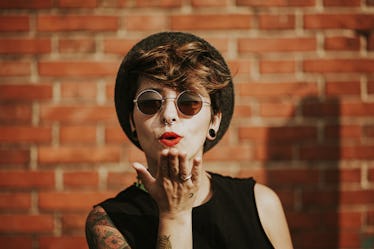 Experts Say Gratitude Has Powerful Effects On You, So Here's How To Practice It More
Actions speak louder than words, but the art of showing versus telling has seriously lost its edge over the years. For example, call me old-fashioned, but I write thank you notes for every occasion — after my bridal shower, my wedding, and I even sent handwritten letters to my advisers whenever I left an internship or job. I like to bring gifts to parties (mostly baked goods, because who doesn't love dessert?), and I always make sure to thank my Uber drivers for the ride. Showing your appreciation doesn't have to translate to grandiose gestures; little ways to show gratitude go a long way, too. So the next time a loved one, friend, or even a complete stranger makes your day a little easier, or says something to make you smile, don't just say thank you — show them you're thankful.
Whether you're on the giving or receiving end of gratitude, research shows that any time you practice gratitude, both parties involved benefit from the gesture. To test this theory, ScienceDaily reports that researchers from the McCombs School of Business at University of Texas and The University of Chicago asked three study groups to write a letter of gratitude to someone who had shown them kindness. The participants were then asked to anticipate how they felt the recipient would respond to receiving their note. In the end, the study participants had overestimated how awkward the recipients of their letters would feel, and underestimated the happiness they actually felt upon reading the notes.
Going off of this research alone, the reason why you might hold back from showing gratitude in any capacity — big or small — seems to be because of that fragment of expectation, the fear that what you want to articulate won't be communicated the right way, or that whoever is on the receiving end either won't understand or appreciate the gesture, or that they'll just feel awkward about the entire ordeal. But it just goes to show that little ways to show gratitude are more than enough to make you feel good, and those who accept your gratitude feel even better. If you need some inspiration, here are a few simple ways to express your gratitude.