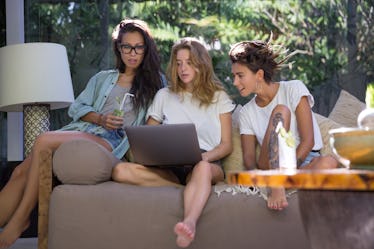 These Wanderlust-Filled Movies On Netflix Will Make You Book A Flight ASAP
Ready for Netflix and chill? I've rounded up some of the best travel movies on Netflix that will inspire you and your wanderlust to hit the road as soon as possible. Do you ever just feel like pressing the pause button and escaping your hectic schedule for a little bit? Work can be a bit much at times. When the beach, mountaintops, and sunflower fields are calling your name, you should really listen. It's no secret that travel has changed the lives of many around the world, if not the mindsets. Sometimes, you just need to start over or experience a simple change of perspective. More often than not, travel can help spark that change — and these travel movies on Netflix are just waiting for you when you need to fuel your wanderlust. So, park yourself on the couch and pour yourself a glass of wine (if you're 21 or older) as you stream one of these films.
If you're saving up, you may want to hold off on watching these movies for now. I can guarantee that you'll be dying to book a flight after gazing at some of these downright stunning destinations on Earth. You'll get a sample of the sights and sounds that these places have to offer. So, go ahead and imagine yourself as the main character — I won't judge you. And don't worry, I also won't judge you if you forgo your savings altogether and decide to book a flight. Not many of us can resist a spontaneous adventure.