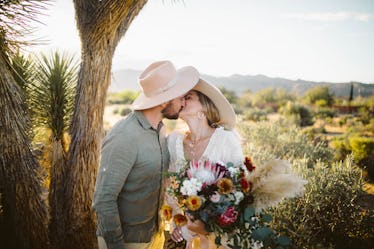 5 Tips That'll Make Planning Your Wedding Way Less Stressful
Planning a wedding can be a lot of work. Depending on the wedding, you may have to prepare a guest list, invite all your friends and family, book a venue, organize the seating charts, and find someone to marry (I've done all but the last step). Given all the work that goes into a wedding, it's not hard to believe that someone would find planning a wedding to be challenging. The good news is that if you are in this situation, I spoke with experts to get some tips to make wedding planning less stressful. After all, it can be an extremely important day for you, and you deserve to be relaxed and happy the entire time!
I love attending weddings, and I'm always happy to share in the couple's love. Still, I understand it can be a nerve-wracking process — beyond my extremely rational fear that a carnivorous plant will rip the dress day-of, there's also the whole planning process beforehand. I've never been married, but I'm a generally anxious person (even planning my commute can stress me out, so I get it), and I get where people are coming from when they talk about the stress of wedding planning. Fortunately, carnivorous plants aren't all that common, there are many ways to make a wedding less stressful.
Read on to find five tips to make your wedding planning process more relaxed!