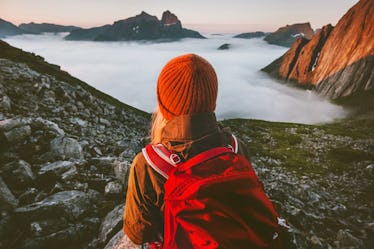 5 Tips For Traveling With Just A Backpack, Because I Did It For A Year & It's Possible
I spent a year traveling the world with just a backpack, and it was one of the best experiences of my life. Looking back, I had a lot of fears surrounding this style of travel. How would I go that long without my favorite clothes and a variety of shoes to choose from? Would I get tired of living out of a bag? Would I actually have everything I needed? In the end, I learned so many lessons about adventuring with just the essentials. Here are a few tips for traveling with a backpack, because I did it for an entire year and it's totally possible.
It's easy to think that life gets easier when you have more clothes, shoes, accessories, and options in general to choose from. However, backpacking taught me that this couldn't be further from the truth. In fact, I quickly learned that once I limited the stuff I brought along with me on my journey, I was able to completely focus on things that actually matter in life. Life's simple pleasures bring so much joy, and I was able to experience that first-hand. This style of travel introduced me to a new way of living, and I'm so glad I gave it a try.