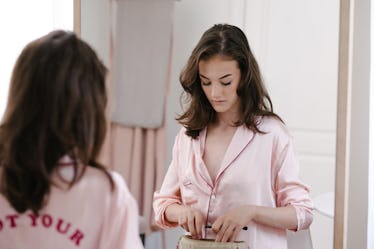 5 Women Reveal The 1 Thing They Do Before A Date To Feel Confident AF
Getting ready for a date comes with a whirlwind of emotions. There are nerves, excitement, anticipation, and so much more. In an effort to calm those pre-date jitters and leave for your date feeling like a million bucks, you probably have your getting ready ritual down pat. Whether you primp and polish every inch of your body or you prefer to chill out and read magazines before heading out on the town, you likely have a go-to activity that helps you feel confident AF. If you're looking to revive your routine, these five tips for getting ready for a date might be just what you need.
I spoke to five real women about how they prefer to prepare for a date. Each one shared a getting-ready trick that she swears by, and while they are all simple enough to implement on your own, these tips are also surprisingly effective.
Maybe it's your first date with someone from a dating app, or maybe this particular dinner feels like the perfect opportunity to finally DTR with someone you've been seeing. No matter the occasion, the next time you have a big date to look forward to, why not try out some of these tactics?