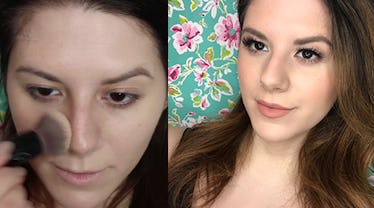 This 10-Minute Makeup Tutorial Will Get You Date-Ready Faster Than You Can Say "Wine, Please"
Kim Carpluk
When I have the time, there's nothing I love more than sipping on a tall glass of Trader Joe's red wine and indulgently applying my winged liner while simultaneously contemplating my whole life and existence — but most days, there isn't time for that. This 10-minute makeup tutorial will get you ready in a flash on those days when you barely have time to brush your teeth and/or hair. Because if you're anything like me, the latter greatly outnumbers the former.
I've been there countless times. Suddenly, I look up at the dreaded clock and find I have only fifteen minutes before I have to sprint out my front door. Most frequently, it's the result of hitting snooze one too many times, scrolling through Instagram for longer than I should have, or straight up sitting in the bathroom temporarily incapable of movement due to staggering laziness. In fact, just a few days ago my speedy makeup skills were once again put to the test.
I wore 15 pounds of glitter on my eyes for a nine-hour makeup event called Beautycon. The moment I arrived back at my apartment, I scrubbed my tired face free of all product and sparkle. As soon as I applied my moisturizer, they guy I've been low-key dating asked if I was free for dinner in an hour.
Since I live way uptown in NYC and the subways are garbage, this meant I had ten minutes to beat my face to date night acceptable levels of stun. Trust and believe my friends, I made it work. TBH, he kept commenting on how particularly beautiful I looked, because this tutorial is that legit, kiddos.
So set your timers and take a deep breath, because this fast glam transformation starts...now.
Get You A Primer That Can Do Both
The more multi-purpose products I can use, the better. By using a moisturizer that also acts as a primer, I can save myself two minutes (which is precious when you only have ten).
I stan the Josie Maran Argan Moonstone Drops Makeup Priming and Highlighting Oil ($48; sephora.com). It truly does it all. It hydrates without overwhelming my naturally oily skin, it primes so wonderfully that pores take a hike, and, as an extra added bonus, it adds luminosity to the skin. When I have barely any time to get ready, this product is there for me.
I simply squeeze a couple drops onto the pads of my finger tips, warm the product together, and apply to my face, starting at the center and working outward.
When I have time, I prefer to pat the product on to my face — that way, it will be more evenly and thoroughly absorbed. However, when I'm in a rush, I simply smack it onto my face any way I can. Applying my primer oil takes approximately seven seconds.
Buff Your Foundation In, Buddy
Fingers are porous and tend to sheer out foundation. Beauty sponges, with their soft, diffusing foam, will turn a full coverage into a medium. Both options are amazing when you have time to build product and layer, but when you only have ten minutes, you can't mess around.
When I want to get my base done in seconds, I opt for a buffing brush. Synthetic brushes don't hold on to product as strongly as fingers, sponges, or natural haired brushes, so all the product is more rapidly deposited onto the skin. I use little circular buffing motions to achieve a sheer to medium coverage everywhere, then stipple on the product where I need a little extra love (like around my nose and chin where I have quite a bit more redness).
Do the same with your concealer. Buff and stipple your way to baggage-free goodness.
My whole base process two minutes.
Set It Super Fast
Since you're spending these precious ten minutes applying your makeup, you're going to want to lock it in place with some powder. Using a powder puff and some translucent setting powder, I quickly set my T zone to prevent my oil from breaking apart my makeup throughout the day. Setting takes about twelve seconds.
Use Only The Products You'd Feel Naked Without
On an average day, I use blush, bronzer, highlight, contour, and illuminator - you know, the works. However, when time is limited, I tend to skip all the fancy extras and rely on a flush and contour.
Blush is a non-negotiable because it will automatically add life back into your complexion. When I'm in a super rush, I just use whatever left over product is in my brush already. I simply smile and apply the product to the apples of my cheeks, swiftly sweeping up toward the hairline.
Because my primer oil had an illuminator built in (score), I skipped the highlighter for the moment being. However, I personally can't skip on the contour. For me personally, seeing my face without contour makes me feel super naked. If there's a step that will make you especially self conscious if you skip it, then take the extra 30 seconds to apply it. For me, it's contour. For others, it's highlight, bronzer, etc. Trust me, the extra time is worth not having to stress all day.
Together, my contour and blush take about a minute to apply.
Fiber Brow Gels Are A Girl's Best Friend
When I'm in a rush, fiber brow gels save my life. The little fibers cling to natural hairs, filling in sparsity in seconds without the need for precision.
I simply backcomb my brow hairs and voila — a drastically fuller brow appears.
I personally quickly do a couple dashes with a pencil at the tails of my brows (because my brows are super asymmetrical), but if your brows look semi-related naturally, I suggest skipping the pencil all together.
Even with the pencil, my brow only takes a minute to apply.
Shadow Pencils Will Save Your Soul
When I'm in a rush, I don't have time for primer or blending - ya girl's already late, there's no time to eff around.
To give my eyes quick definition, I sketch a little taupe shadow pencil from my lashline to my crease. If you see any hard lines or edges, you can quickly diffuse with a synthetic brush or your finger.
In order to create a little fullness at my lower lashline, I apply the cream shadow there, too.
This process also takes one minute.
Feel Free To Lash Out
So just to recap, right now we're at five minutes and change.
When I'm doing minimal eye makeup, I like to go heavier on the lashes to add some definition.
If you naturally have good lashes (bless you), then simply layer a couple coats of mascara and you're set.
However, I have approximately three eye lashes, so when I do minimal makeup, a sensible pair of false lashes is necessary. Because I apply falsies pretty much everyday, the entire process takes only two minutes.
If you have more than three lashes, or if you've never applied falsies before, then skip 'em. Today is not the day to mess around.
Use A Lipstick You Trust
With two minutes and some odd seconds left, I'm making good time. All I have left to do it apply my lipstick.
When you don't have time to make a mistake, use a lipstick you know you love, preferably in a natural hue since the rest of the face is pretty muted. Experimenting with new lip shades is awesome, but right now is not the time.
I apply my lip in under thirty seconds and I'm good to go. The entire look took about eight minutes (leaving two minutes to perfect and breathe).
Just because you don't have time doesn't mean you can't look gorgeous as hell. With a little focus and a simplified routine, you'll be dashing out the door faster than you can say, "wine, please."