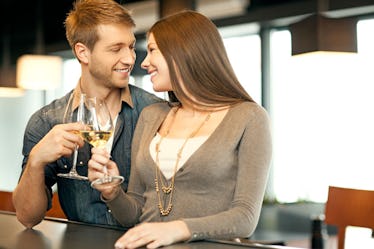 5 Useful Tips For Dating After College, Because It's A Whole New World
Dating — or, at least, hooking up — in college is pretty easy. For four years, you're basically living in a bubble of like-minded people, and new opportunities for a relationship are just a party or a lecture hall away. Want to hook up with the hottie down the hall? A fun chat in the laundry room might just lead to an invitation to their dorm room. But eventually, you graduate from college, and hooking up with the hottie down the hall of your apartment building isn't quite as effortless. If you need some tips for dating after college, don't worry — you're not the only one.
After graduating from undergrad, I moved to a new city for grad school, and the prospect of dating someone outside my college bubble (where everyone felt eligible and safe simply because they attended the same school as me) was terrifying. Without clubs and study rooms and an established network of friends, how was I supposed to find someone to date? Elite Daily previously spoke to life coach Nina Rubin and online dating coach Damona Hoffman and — if you're in the same spot I was five years ago — here's what they said about approaching the dating scene post-college.