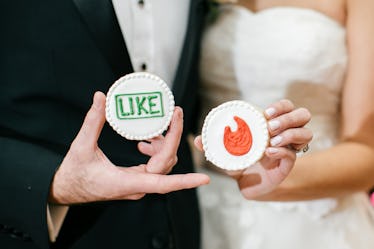 5 Photos Of Tinder-Themed Weddings That Perfectly Honor How The Couple Met
I always find it silly when someone on Tinder writes in their bio that they'd be "willing to lie about where we met." There's nothing to be ashamed of about meeting someone special on Tinder. And if you swipe right and then end up clicking IRL, you definitely shouldn't hide that fact. By confidently sharing your tale of online dating success with the world, you can inspire others to embrace their Tinder love stories, too. That's exactly what these five happy couples chose to do. Tinder-themed weddings are becoming more and more popular, and these couples are living proof.
Each of these men and women first met on Tinder, went on to get engaged, and decided to incorporate the dating app into their wedding festivities. It makes sense to honor the way you first met at your wedding, and it's Tinder that these couples have to thank for introducing them in the first place.
Whether it was through a subtle nod in their invitation photos, or with a party favor inspired by Tinder, each of these couples drew wedding inspiration from the modern-day matchmaking app that helped ignite their forever flame. Here are five adorable Tinder-themed wedding photos that will restore your faith in finding love online.