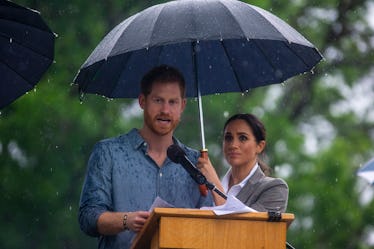 All The Awesome Ways Prince Harry Has Shown Support For Mental Health Awareness
Pool/Getty Images Entertainment/Getty Images
Even before their whirlwind romance bloomed into a royal marriage and soon-to-be family of three, Prince Harry and Meghan Markle became a power couple with a very real platform at their disposal. To this day, all eyes follow the Duke and Duchess of Sussex, and I think they're both fully aware of the opportunity they have to make a significant impact on the world. For example, Prince Harry has shown his support for mental health awareness time and again by joining campaigns, fore-fronting the royal Heads Together initiative, and opening up about his own experiences with such raw emotions, particularly after the passing of his mother, Princess Diana.
In this mixed up world full of chaos and stigma surrounding mental health issues that, BTW, everyone goes through at some point or another, it's always humbling to know you're not alone in these hardships. But having an icon like Prince Harry — a member of the royal family who generally presents himself as totally put-together — come out and say he's been there, too, can be even more comforting. I know myself, and I've definitely (foolishly) assumed that celebrities, and people who find themselves in a position of power, are somewhat immune to the everyday mental health struggles you and I might experience daily.
But the truth is, no one gets a pass. Anyone with an active mind and a beating heart is subject to an internal conflict of some sort, if not for any reason other than the fact that you're human, and you have the ability to feel emotions. According to the World Health Organization (WHO), one in every four people will experience some kind of mental health issue or neurological disorder at least once in their lifetime.
When you think about it that way, we really are all in this together — and that's exactly the message Prince Harry wants to communicate when it comes to mental health.