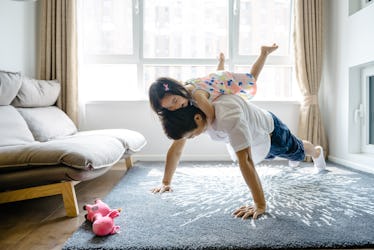 5 Things To Post On Instagram If You Don't Have A Relationship With Your Mom
With Mother's Day fast approaching, it can be easy to forget that not everyone has a mom or mother figure to celebrate. Even if your mom is in your life but you don't feel like you have a relationship worth celebrating, this doesn't mean that you can't take the opportunity to shower praise onto someone else in your life that loves and supports you. If you're wondering what to Instagram if you're not close with your mom, the answer is simple: You can Instagram pretty much whatever you want. At the end of the day, anyone and anything that helps you through a difficult time is worthy of your thankfulness, regardless of whether or not they fit the neat and tidy definition of "mom."
Don't feel like Mother's Day is purely for those with moms, because even if you had to be your own mom growing up for whatever reason, chances are there was still someone in your life who showed you love when you needed it most, and that's just as relevant as anything else. Also know that there is absolutely nothing wrong with refraining from posting all together. Just listen to how you're feeling throughout the day and go from there. But, if you need some inspiration, here are five Instagram posts for Mother's Day if there's someone else you would like to honor.