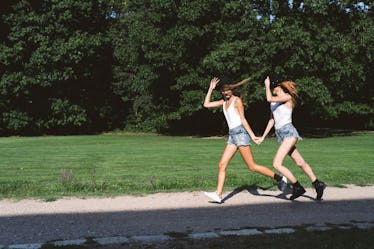 Every Millennial Should Know These 5 Things Before Going On A Vacay With Their Bestie
Traveling is one of life's greatest joys, and it's made even better when you're able to share the experience with the people you love most. You likely already spend a good amount of your free time with your bestie, so it only makes sense that you should explore the world with them, too. But no matter how well you know them, there are a few things to know before traveling with your best friend. You're going to have a great time no matter what, but walking into your trip with an open mind and a better understanding of what it will be like will ensure that the two of you have a great time together.
Traveling with your BFF means that you're going to get to know them on another level. You'll learn what makes them tick, what they're like as a roommate (especially if you've never lived together before), and you might even experience a totally different side of them.
Speaking from experience, traveling with your best friend is one of the most amazing things you can do for your friendship. You'll become closer in ways you never thought possible, and you'll make memories that will truly last a lifetime. If you and your BFF are already busy planning your next big adventure together, make sure you keep these five things in mind.