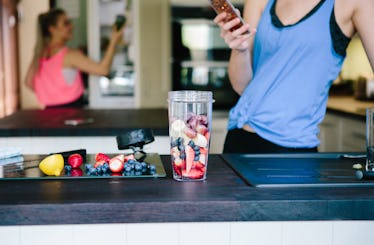 Make Sure You're Doing These 5 Things Before Your Workout If You Want More Energy
You can be the world's number-one fitness enthusiast, and yet, some days, finding the energy to work out can still be a major struggle. You get home from work, the couch looks far too alluring, and before you know it, all that motivation you had earlier in the day goes right out the window. If you know there are times when you feel a bit sluggish and unmotivated going into your sweat sessions, there are plenty of things you can do before a workout for more energy and enthusiasm.
Sure, you can drag yourself to the gym, a fitness class, or even begrudgingly do an at-home workout with virtually no energy, simply going through the motions for the sake of checking it off your to-do list. TBH, though, that'll likely lead to a pretty sh*tty workout that'll leave you feeling weak, tired, and counting the minutes until it's over.
Personally, when I'm in a funk and majorly lacking energy for my planned sweat sesh, I find that jamming out to some uplifting beats gets me in the zone. However, there are a few more, super simple things you can do to amp up your energy and absolutely slay the game during your next workout. Here are five ways to get your energy levels up, just in time for your workout.