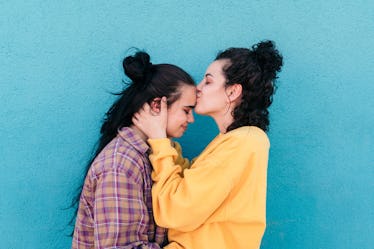 5 Supportive Texts To Send Your Sister When She's Heartbroken
The only thing worse than going through a breakup is watching someone you love suffer through the same pain. This is especially true if the person is your sibling. If your sister is currently dealing with a breakup, then naturally, you're probably going to want to be there for her and help her through this difficult time. That's why having some texts to send your sister when she's going through a breakup saved on your phone can really help show her how much you care.
Having a sibling comes with a bunch of awesome perks, but it also comes with an equal amount of responsibility. This means that whenever they're going through a rough patch, like most people do after a breakup, it's normal to feel like you want to support her. Depending on how things with her partner ended, you could be in for a few weeks (or months) of emotional late-night phone calls and midday pep talks. In addition to regular phone conversations, communicating via text is another solid way to keep in touch and send uplifting messages when they're feeling down. Below, five different types of texts you can send to sis that will help her see the light at the end of the breakup tunnel.