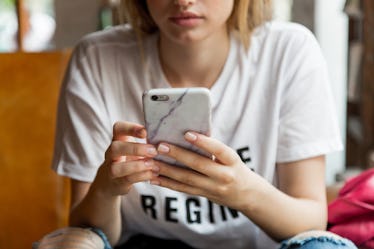 5 Naughty Texts To Send Your Ex If You Want To Hook Up Again
Sometimes you're getting down in the club, and the pickings are so slim that you contemplate doing the unthinkable and texting your ex. Maybe they've been on your mind recently, or maybe you're just looking to get down and want someone who knows how to push your buttons. Either way, there's no shame in hitting up an ex for some casual TLC. How to hook up with an ex without making things complicated typically varies depending on how things ended between you two. As a rule of thumb, if you're looking for some quick action, then it's usually better to send a flirty message to someone who doesn't have a reason to still be pissed.
They key to being successful when fishing for an old lover is to make the window of opportunity open, but not too open. This means that if you're out on a Friday evening, sending a late-night text is usually a solid choice. This way, it's not mistaken for an invitation to reconnect, but clearly an invitation to hook up. And if they aren't free, they can easily counter with an offer to grab a drink the following night. But before sending a sexy text to your ex, it's always a good idea to be prepared for the worst, like a lack of response, a text letting you know they aren't interested, or a text telling you they're seeing someone else. If you can handle the possibility that your attempt at meeting up might not pan out, then you've got very little to lose, so just hit send and see what happens.