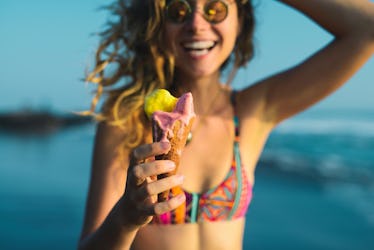 5 Lazy Summer Dates You & Your Partner Should Try When It's Too Hot To Move
Isn't it funny that we count down to summer for months only so we could immediately take to Twitter and rag on the sun once it gets here? In high school, I would spend winter and spring break brainstorming all the best summer dates for when it's hot and, obviously, every single one of them required to me to take advantage of the heat. The problem was (and still is) that when summer actually came around, I couldn't bear to stand outside for more than a few minutes at a time without feeling moist — yeah, I used that word — and sticky. Um, hello, this is not what I had in mind when I decided to be slick on a date.
Spending the day at an amusement park might sound like a good idea in theory. The reality is, though, you'll be spending the day panting like a dog, fighting off tourists at the water fountains, and shielding your phone from the sun so it doesn't overheat. It's not so much 500 Days of Summer as it is 500 reasons I'd rather be doing literally anything else indoors.
Trust me when I say that summer dates don't have to be miserable to be cute. Natural lighting be damned, this is what you need to do to have the most adorable summer break with your dates.