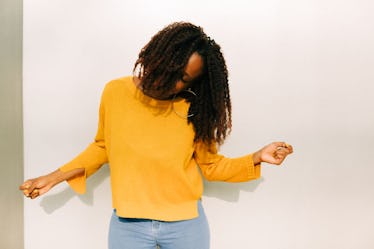 Your Body Will Thank You For These 5 Stretches When You're Full AF Post-Thanksgiving
There's nothing quite like being slightly immobile after your Thanksgiving feast, amirite? Seriously, though, being with food baby is nothing to fear, friends — overindulging is what the holidays are all about. You eat your food, you do a few stretches after the big meal, and then you sit down for a little while until the pies come out. God, I love Thanksgiving.
But really, the truth is, stretching after a meal can be great for digestion; getting a bit bendy might even help you poop, because a little bit of movement can help more than you think in "stimulating the bowels to help move the food bolus, gas, and, ultimately, waste, through your system," Rebekah Gross, M.D., gastroenterologist and clinical assistant professor of medicine at NYU Langone Medical Center, told Women's Health.
And, no, I am not apologizing for getting all TMI here, thank you very much. You and I both know that your body might need a bit of a nudge after all the gravy and mashed potatoes you'll be nomming on, and there is nothing wrong with that.
So, after you share a delicious Thanksgiving feast with your fam and friends, unwind with some of these restorative stretches. Who knows — your family might even want to join in once they're as bloated as you are. Or they'll just incessantly roast you, but hey, that's why you love them, right?