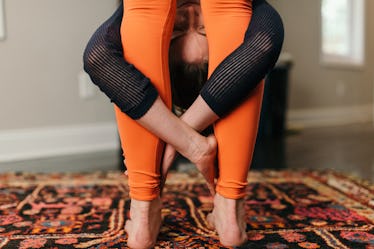 5 Stretches That Make You Sleepy So You Can Face-Plant Onto Your Pillow With Ease
Raise your hand if you're guilty of avoiding stretching like the plague. TBH, it's just not the most exhilarating activity in the world. But from shoulder-tightening desk jobs to hip-tensing workouts, your muscles are basically screaming to be lengthened and stretched out. Plus, when it comes to getting some quality shut-eye at night, there are a bunch of stretches that make you sleepy so tossing and turning will be a thing of the past.
Honestly, the worst feeling in the world is when you get home after a long day, you're ready to pass the f*ck out, and then the minute you get into bed, trying to fall asleep suddenly seems more difficult and complicated than the first time you tried to parallel park. But a few simple stretches in your evening routine are sure to help you not only fall asleep faster, but stay in a deeper, longer sleep, too. Stretching helps to improve blood flow throughout your body, which in turn releases tension built up throughout the day, leaving your muscles feeling super sleepy and relaxed by the time you're ready to hit the hay.
So the next time you need a little natural dose of NyQuil, try these five stretches that will help you literally face-plant into your pillow with ease.