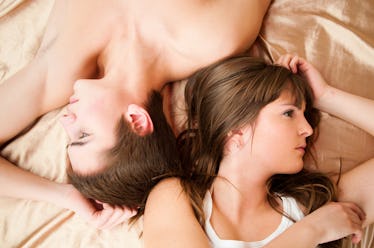 These 5 Signs Might Mean Your Relationship Is Tumultuous AF, So Keep An Eye Out
Do you feel like your relationship is like a rollercoaster? Up and down and slightly out of control; the lows are brutal but the highs are so good that you can't quite let go. Well, those might be red flags and signs your relationship is tumultuous AF, and potentially becoming unhealthy. If this sounds familiar, it might be time to take a good, long look at whether continuing on is the right path for you or your partner. What makes these kinds of relationships so tricky is that while they can be really toxic, they are also filled with the kind of passion that can make them hard to leave. The first step in taking control of your emotional wellbeing is to first recognize what the dynamic really is — and if it's worth saving.
While the signs are often clear that something is off in the relationship, sometimes knowing how to handle it can be really confusing. But then, matters of the heart often are. To help shine a light on what to look out for if you suspect your relationship has become too tumultuous, I reached out to the experts. Here's how they say you'll know if your "passionate" relationship is actually becoming a toxic one — and what to do about it.