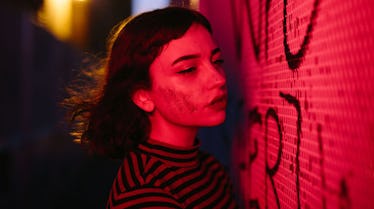 5 Signs Your Partner's Heart Isn't In Your Relationship Anymore, Because You Can Tell
If there's one thing worse than falling out of love, it's sensing that your partner is falling out of love with you. It starts with a feeling of dread in the pit of your stomach, and suddenly you start to notice something is off — something in the relationship has changed. These may be signs your partner's heart isn't in your relationship anymore and it's time to do something about it. But what? And how can you be sure?
Chances are, if your partner is pulling away, there are subtle and not-so-subtle signs that you can pay attention to. In fact, you've probably already noticed them, whether you were ready to admit it or not. But the best offense is a good defense, so it's time to get real about what you're feeling and figure out how you want to proceed. The first step, though, is to be sure of what's happening in the relationship, so to get some help spotting trouble, I reached out to the experts. Here's what they say to watch out for if you think your SO's heart may no longer be in the relationship, and what you can do about it.