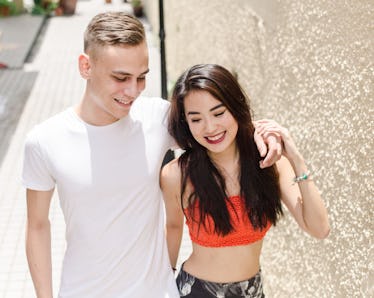 5 Signs It's Serious When You Only Want Something Casual, So You Can Slow It Down
When I first met my partner, I was not looking for anything serious. I just wanted someone to spend some time with and have fun. They, on the other hand, were looking for a fully committed relationship. As you can imagine, this made things pretty rocky in the beginning, with them pushing for more and me pulling back. As the relationship continued, we began exhibiting all the signs it's serious when you only want something casual — for better or worse.
While it took me some time to get there, my partner got their way and we made it official — but not until I was ready. That's because they didn't force things. Instead, they patiently and methodically made the case for why being together would work. Turns out they were right, but that didn't make my desire to keep it casual any less valid — because sometimes, that can be the right thing for the relationship, and it should be honored.
However, sometimes a relationship that you intended to keep light and breezy has a way of drifting toward something serious, without you even realizing it — especially if your partner is subtly putting their thumb on the scale. The first thing to do in this situation is to identify what's going on by recognizing the signs. And then, once you know, you're at a bit of a crossroads. Do you want to move forward and continue to move toward a serious commitment? Or do you want to slow things down?
To help sort all this out, I reached out to NYC relationship expert and love coach Susan Winter for her advice. Here's what she says to look out for if you feel like you and your partner might want different things, and what to do about it.