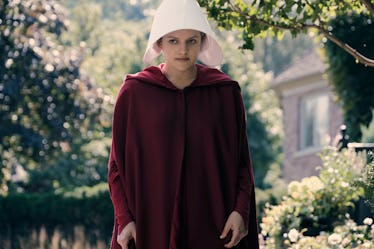 5 Shows Like 'The Handmaid's Tale' That Will Help Ease Your Pain Once Season 2 Ends
Hulu
The Handmaid's Tale Season 2 comes to an end on Wednesday, July 11, after thirteen weeks. The season has been long enough that fans of the series might feel bereft when they suddenly realize there are no more installments to obsess over of Offred's Awful Adventures In Gilead. But there's good news for those who need a new show to fill the gap left until The Handmaid's Tale Season 3 turns up in 2019. There are quite a few shows like The Handmaid's Tale out there which can help fill the different needs of the fans who watch the series.
There are several different niches that The Handmaid's Tale fills for different kinds of fans. It serves as a feminist show, with one of the very few female protagonists in the prestige TV genre. For those who are fans of Elisabeth Moss since her time on Mad Men, it gives a fix of her brilliant acting skills every week. For fans of weep-fest TV that makes the world around them seem less depressing by comparison, it fits the bill nicely. (Except of course on the weeks when it hits the current political crisis on the nose.) And for fans of different kinds of dystopias, it hits very close to home.
Let's run down the five best options to watch while waiting for The Handmaid's Tale Season 3.