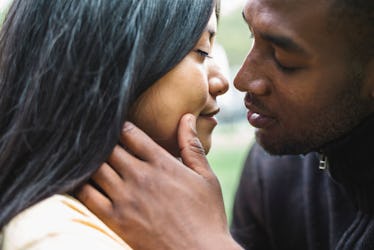 4 Romance Novelists Reveal Their Hottest Tips For Getting ~In The Mood~
When it comes to getting in the ~mood~ there are a lot of things you can do to "get it hot in here," and, uh, "take off all of your clothes." There's something to be said about sexy playlists and a suave-smelling candle or two. If you're skeptical, you don't have to take it from me. Those ideas are straight from the following sexy tips from romance novelists inspired by how they write their sex scenes.
When you think about it, romance novelists are high-key experts at setting the mood because, well, it's their job to do so. To get the scoop, I talked with romance novelists Jasmine Guillory, Stephanie Evanovich, Laura Lee Guhrke, Jill Shalvis and Josie Silver about how they write their sex scenes. The most important thing that each of the authors stressed was how setting the scene is about the mood from start to finish. For instance, Guhrke explains that her characters never magically jump into sex without a long period spent building tension between the two characters. And, this, she says, can work for you too! Evanovich reminds readers to never underestimate classics like some sexy whispering in a lover's ear. And, honestly, I would be like super surprised if you read any one of these author's scenes and didn't blush.
To learn more about how these romance novelists set the mood in their writing, check out the following tips. And, hey, you could definitely use some of these tips in your real life.