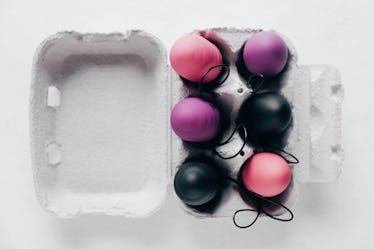 5 Toys That Do It Better Than Your Date's Mouth Ever Could
Oh, the joys of oral sex. One might say that the experience is incomparably pleasurable — that there's simply no way a couple fingers, or any other body part of object for that matter, can mimic what a mouth can do. There's obviously no way to fully recreate the intimacy of a real live human being performing these acts, but fortunately, there is a slew of sex toys that feel like oral sex. In other words, your solo pleasure sessions (and future romps) are about to get a lot more interesting, no mouth needed.
A 2017 study by Professor Debby Herbenick at the Center for Sexual Health Promotion at Indiana University in Bloomington found that receiving oral sex was rated one of the top appealing behaviors by women. And it's no surprise, since 36.6 percent of women surveyed also reported needing clitoral stimulation to reach orgasm. That's precisely why these types of toys are so exciting — they emulate an act that's really effective for helping you to finish.
It's as simple as this: press a button, relax, and close your eyes — and you may just convince yourself you've got an on-demand tongue at your service. Sound like your idea of a spectacular night in? Check out these sex toys for some oral-inspired stimulation.
Satisfyer 2 Pro Deluxe
Vacuum technology isn't just for cleaning anymore. In fact, this sex toy leverages it for some intense, contactless clitoral stimulation. Here's how it works: The Satisfyer 2 channels air through a silicone nozzle that is applied over your clitoris, resulting in a pulsing effect that some users say has allowed them to achieve multiple orgasms. The latest model boasts a quieter motor, so you can get off without risking any awkwardness with the roommates. By the way, don't shy away from bringing this baby into the shower or bath with you — the Satisfyer is not only waterproof but promises even more intense stimulation underwater. And with 11 pressure wave settings to choose from, you can definitely customize your pleasure.
Womanizer Plus-Size
Suction is a somewhat underrated component of oral sex, and for some women, it's the factor that sends them over the edge. The Womanizer uses pressure airwaves to recreate the sucking sensation of a mouth, and this particular version features a long handle for easier reaching and better control, as well as easier use with a partner. Alternate between 12 different intensity settings until you find what works for you, and if you're trying to be extra discreet, switch to silent mode. (Heed the company's warning, though: "We cannot guarantee that you will be able to keep quiet when using the Womanizer.")
Fiera Arouser for Her
Is oral your preferred form of foreplay? The Fiera Arouser is specifically aimed at helping you to get aroused (by stimulating blood flow) as opposed to finishing you off, which makes it a stellar sex toy for warming up with a partner. Plus, you can control the intensity and patterns of the massagers. The Arouser contains a tiny vacuum that holds the device onto your clitoris, which means you can sit back, relax, and enjoy the sensations hands-free. And just in case you needed a little extra motivation to try out this compact vibrator, consider that an independent study conducted by San Diego Sexual Medicine tested the product on 12 women and every single participant reported experiencing increased arousal from using it.
Lelo Ora 2
If circular movements are what bring you to an O, it's tough to beat this toy, which offers 10 different settings of rotations and vibrations that emulate the sensation of a tongue massaging you in different directions. It also happens to be the first sex toy to snag an award at the Cannes Lions International Festival of Creativity. What really sets the Ora 2 apart is its SenseTouch™ technology, which adds a human element back into the experience: Sensors beneath the surface detect when you apply more pressure, and in response, the vibrations become stronger. In other words, the device "learns" what you like and gives it to you (side note: wouldn't it be great if all lovers did this?). Plus, the smooth silicone surface feels a lot like a tongue, especially with a bit of water-based lube.
Lovehoney Sqweel Go Rechargeable Oral Sex Massager
Picture this: 10 tongues gently flicking your clit at once. Need I say more? This pocket-sized device features a wheel of silicone tongues that can pleasure you at six different speeds and vibration patterns of your choosing. In other words, you can start slow for some soft teasing, and slowly build up the intensity from there. Honestly, the reviews speak for themselves: "I have never gone from 0-100 so quickly!" "Discreet but powerful." "My new best friend."
Whether you're seeking a little solo foreplay before your SO comes over or an earth-shattering O by yourself, one of these oral-themed toys is bound to do the trick. It's obviously impossible to match the feeling of another person's mouth on your nether regions, but with any of the aforementioned devices, you can get pretty damn close.